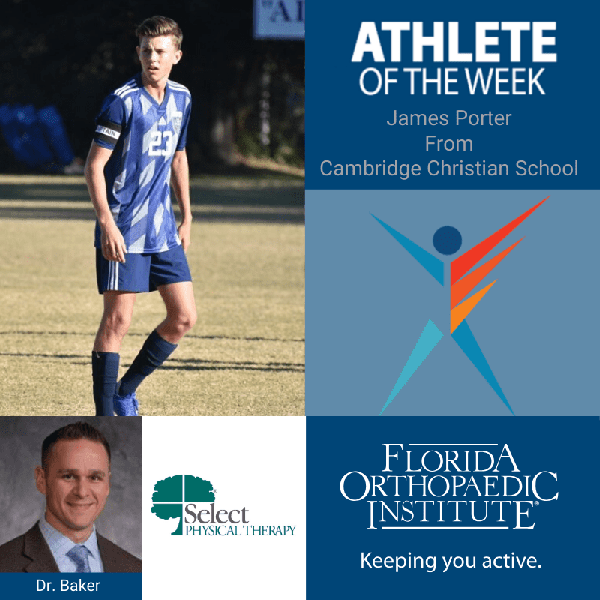 Tampa, Fl. – February 7, 2020 – Florida Orthopaedic Institute (FOI) is proud to announce James Porter from Cambridge Christian School as the 'Athlete of the Week' for the week ending February 7, 2020.
Porter was nominated by Assistant Athletic Director and Boys Varsity Soccer Coach, Kevin Hickinbotham, for his leadership on both the football field and the soccer pitch.
"James is a leader both on and off the field," said Hickinbotham. "He leads by example, works hard, encourages his teammates and performs at a high level. He punted and kicked for the football team this year (his first year playing) and averaged just under 40 yards punting and almost 53 yards for kickoffs. He also added 40 PAT's and was 2-2 in FG's. During Soccer season, he was the engine that made the team work and scored 15 goals while adding 12 assists. He is an excellent student with a 4.0 GPA."
Growing up as a student-athlete, Porter had been surrounded by positive influences and exceptional role models. Now, he's finding ways to pay it forward through his own leadership.
"As an athlete, I've been playing soccer since I was 7," said Porter. "I've had some great coaches and teammates. It's been those coaches and teammates, who I've looked up to, that have motivated me to be the kind of leader who leaves an impact on their lives."
Porter believes that success is found in personal victories. Setting goals for himself and being able to bring his team together helps him pave the way toward achievement.
"Success is achieving goals you have set," he said. "Some of life's greatest moments started with one small goal. I wanted to help lead my team to district finals this year. That means we, as a team, were willing to plan, work and train hard together to try and achieve that goal."
At the end of the day, Porter reminds everyone to not take themselves too seriously and to see the lighter side of sports.
"Always have fun and enjoy your time playing high school sports," said Porter. "It's something that you get to do with all your friends and make unforgettable memories."
Florida Orthopaedic Institute's Athlete of the Week campaign is designed to focus on student-athletes, recognizing them for their hard work and dedication both on and off the field. The Athlete of the Week award can be earned by displaying one of the following characteristics:
Team Player: Athletes who are nominated for excellence in team play are chosen by a coach who feels the athlete does his or her best to put direction into action, makes a significant contribution to the team and continuously works to improve his or her skills, attitude and training.
Leadership: Athletes who earn the award in recognition of excellent leadership must exemplify strong relationship building skills, show excellent initiative and serve as role models for his or her peers.
To view previous award winners, please follow this link.
Florida Orthopaedic Institute
Founded in 1989, Florida Orthopaedic Institute is Florida's largest orthopedic group and provides expertise and treatment of orthopedic-related injuries and conditions, including adult reconstruction and arthritis, chiropractic services, foot and ankle, general orthopedics, hand and wrist, interventional spine, musculoskeletal oncology, orthopedic trauma, physical medicine and rehabilitation, physical and occupational therapy, sports medicine, shoulder and elbow, and spine services among others. The organization treats patients throughout its surgery centers in North Tampa and Citrus Park, two orthopedic urgent care centers in South Tampa and Brandon, and 9 office locations in Bloomingdale, Brandon, Citrus Park, North Tampa, Northdale, Palm Harbor, South Tampa, Sun City Center and Wesley Chapel. For more information, please visit: FloridaOrtho.com and 'like' us on Facebook: facebook.com/Florida.Orthopaedic.Institute.