OVERVIEW
The hip and thigh play a crucial role in walking, sitting, standing, and bending. The hip joint is a ball-and-socket, weight-bearing joint that allows the leg to move and rotate while keeping the body stable and balanced. A hip muscle strain can occur instantly, or over time from the deterioration of the muscles and tendons within the hip. Although many hip strains improve with home treatment, severe strains may need physical therapy or possibly even surgery.
ANATOMY
The thigh bone (femur) and the pelvis, the large bones that make up the hip joints, serve as anchors for several muscles. The hip is a ball-and-socket joint. Surrounding these structures are muscles in the abdominal, buttocks, and leg regions such as the:
Hip flexors.
Adductors.
Abductors.
Gluteals.
Quadriceps.
Hamstrings.
Soft tissues like cartilage, ligaments, and tendons join these muscles and bones.
Hip strains frequently occur near the point where the muscle joins with the tendons – fibrous, tough tissues that connect bones to muscles. The strain may be a simple stretch in your muscle or tendon, but it could also be a partial or complete tear of muscle fibers or of the muscle and tendon combination.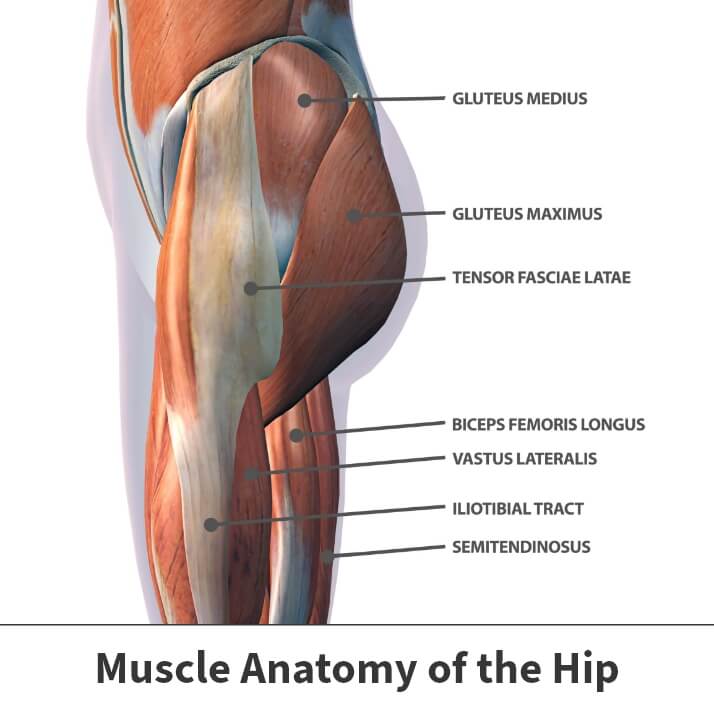 DESCRIPTION
A hip strain occurs when one of the muscles supporting the hip joint is stretched beyond its limit or is torn. Anyone can experience a hip strain from daily tasks, but most strains occur during sports activities. A hip strain can be an acute injury, meaning it happens suddenly. For example, a fall or a direct blow during contact sports could result in a hip strain and immediate pain. Overuse of the hip muscles can cause the muscle or tendon to slowly become weak over time due to repetitive movement, potentially resulting in a hip strain.
Factors that give you a higher chance of experiencing a hip strain include:
Prior injury in the same area.
Muscle tightness.
Failure to warm up properly before exercising.
Attempting to do too much, too quickly, when you exercise.
Once the muscle is injured, it becomes vulnerable to re-injury. Repeated strains in muscles around the hip region may result in a sports hernia, also known as athletic pubalgia.
CAUSES
Strains may happen acutely, meaning such events result from immediate actions like falls, automobile accidents, or forceful, direct contact often seen in athletic competition. Other injuries develop over time as continual movement gradually weakens affected muscles and soft tissues.
RISK FACTORS
Your chances of developing a hip muscle strain increase if you:
Fail to loosen and stretch your muscles before participating in any exercise program.
Had a previous hip injury.
Take on an overly aggressive or strenuous workout.
Exercise when you are tired or fatigued.
Engage in contact sports like hockey, football, wrestling, or basketball.
Experience muscle tightness.
Hip muscle strains can happen to anyone, even when performing routine tasks or movements.
SYMPTOMS
A hip muscle strain causes pain and tenderness in the injured area. This discomfort is felt around the hip. It can spread to other areas such as the buttocks, lower back, groin, abdomen, and down the leg. The injured muscle might also swell, be tender to the touch, and be red. More serious strains might produce mobility difficulties, hip instability, and muscle weakness that increases.
DIAGNOSIS
If you experience any of the symptoms listed above, you may have sprained your hip muscle. Before seeking an official diagnosis, doing the non-surgical treatments listed below can often be beneficial. If pain persists, your Florida Orthopaedic Institute physician will conduct a physical examination, as well as X-rays, to determine what part of the hip is injured, if there are any other injuries and if surgery will be necessary.
TREATMENT (OVERVIEW)
Many hip strains will improve with home treatment alone. More severe cases will need to be treated surgically by a trained surgeon. Your Florida Orthopaedic Institute physician will help determine the right treatment plan for you based on the severity of your injury.
NON-SURGICAL TREATMENTS
Mild strains can be treated with the R.I.C.E. protocol:
Rest. Avoid activities that put weight on the hip for the first few days after the injury.
Ice. Apply ice immediately after the injury to keep the swelling down. Use cold packs for 20 minutes at a time, several times a day. Don't apply ice directly to the skin.
Compression. Lightly wrap the area in a soft bandage or wear compression shorts to prevent additional swelling.
Elevation. Rest with your leg raised higher than your heart as often as possible.
In addition to R.I.C.E., your Florida Orthopaedic Institute physician may recommend crutches to limit your hip's weight for several days. Other recommendations include the following:
Heat therapy. 72 hours after the injury occurs, alternating ice with heat therapy – which may consist of soaking in a hot bath or using a heat lamp or heating pad – may help relieve pain and improve the range of motion. Doctors suggest bathing in hot water or using a heating pad can decrease discomfort and improve the injured hip's motion range.
Home exercise program. Specific exercises can strengthen the muscles supporting the hip and help to improve muscle flexibility and endurance.
Physical therapy. This treatment is a collection of exercises specifically tailored to meet a specific patient's needs and administered by a physical therapist. These efforts are designed to help gradually strengthen muscles weakened from injury and inactivity and improve motion ranges.
Medication. Non-steroidal anti-inflammatory drugs (NSAIDs) such as Advil or Motrin (ibuprofen) and Aleve (naproxen) can help reduce swelling and relieve pain as well.
SURGICAL PROCEDURES/TREATMENTS
If the muscle fibers are completely torn, surgery may be required to regain normal function and movement in the hip. Typically, surgery involves stitching the torn pieces of muscle back together.
Common procedures to correct hip muscle strains include tissue repair, where surgeons fix damaged tissue, or debridement, which involves removing damaged tissue and smoothing over any existing uneven surfaces.
RECOVERY
On average, mild sprains improve on their own or with home care in roughly two weeks. Pinpointing the exact recovery times for moderate and severe sprains proves difficult. Such timeframes depend on the injury's extent, the patient's general health and physical condition, and the specific form of treatment used.
PREVENTION
Strains from acute events like falls or automobile accidents cannot be prevented. You might lessen your risk of future injuries by observing precautions, such as:
Exercising Regularly – Adopting a program designed to strengthen the hips, legs, and surrounding structures can help with prevention. Strengthened muscles are less likely to sustain injury.
Avoiding Overexertion – You should not rush into an aggressive fitness regimen. Instead, begin slowly and gradually ease into more strenuous activities.
Warming Up – Warm up before any type of physical activity. Doing so loosens muscles and soft tissues, better preparing them to withstand rapid or forceful movements.
Wearing Protective Gear – If you have sustained previous hip injuries, consider wearing protective gear like braces or padding.
Wearing Appropriate Gear – Use properly fitting shoes and clothing before playing sports or participating in a fitness program. Old, worn, or tight-fitting articles of clothing can hurt your balance, traction, and ability to move.
Not Playing Through Injury – Visit your physician to examine any lingering source of hip discomfort. Ignoring the problem could lead to significant pain and disability, requiring more aggressive and costly treatment.
NEXT STEPS
In most cases, you should avoid the activity that caused your injury for 10-14 days. The more severe the damage, the longer your recovery period should be. If you begin to feel pain when you restart strenuous activity, go back to activities that do not cause pain.
The following precautions can be taken to help avoid future hip muscle strains:
Condition your muscles with a regular exercise program suited for your age and activity level.
Warm up before any exercise session or sports activity, including practice.
Wear or use appropriate protective gear for your sport.
Take time to cool down after exercise. Give your muscles a chance to cool down and relax after exercising.
Allow your muscles the time needed to heal fully and properly before you return to sports. Do not return to preinjury activity until your muscle strength and flexibility are back to normal.
If you have hip pain, then book an appointment to see one of the physicians at Florida Orthopaedic Institute.
The following Florida Orthopaedic Institute physicians specialize in Hip Muscle Strains: